Hikari® Excel® is a scientifically formulated, color enhancing, daily diet with higher levels of Spirulina and Wheat-Germ in the ideal proportions to bring about great color and excellent sheen and luster too!
Floating Food

Aggresive Color

Daily Diet

Easily Digested

A Scientifically Formulated, Supplemental, Aggressive Growth Diet
Highly concentrated Wheat-Germ from the inner most portion of the kernel naturally offers higher levels of Vitamin-E which provides koi numerous benefits
A uniquely balanced diet rich in the necessary nutrients to support immune system health
Contains a precise amount of select, pure-cultured spirulina which naturally contains concentrated levels of carotenoids to help your koi develop their natural coloration and beauty
Expect an extraordinary glossy appearance and improved luster with continued exclusive use
Excellent for helping finish koi during a longer feeding period given its easily digested characteristics
Feeding 

Regularly monitor your water temperature and adjust the amount and frequency of your feedings based on this temperature, the water condition, number and size of fish and their activity level.

Avoid over-feeding and always remove any uneaten food remaining after the feeding period.

For 64-86°F (18-30°C) - Feed two to four times per day the amount your fish will completely consume within five minutes.

For 41-64°F (5-18°C) - Feed no more than twice daily the amount your fish will completely consume within five minutes. For best results try to feed during the warmer part of the day.

Below 41°F (5°C) - Do not feed your fish.

For increased growth try Saki-Hikari® Growth and for increased color try Saki-Hikari® Color both intended for use when water temperatures are consistently above 68°F.
Note: Hikari® Excel® contains higher levels of natural ingredients which may cause a slight change in color from one production lot to another. Rest assured because of our rigid quality standards, each package meets our superior nutritional specifications.
Nutrition
Fish meal, wheat flour, flaked corn, wheat germ meal, spirulina, krill meal, dehydrated alfalfa meal, brewers dried yeast, DL-methionine, garlic, astaxanthin, choline chloride, vitamin E supplement, L-ascorbyl-2-polyphosphate (stabilized vitamin C), inositol, d-calcium pantothenate, riboflavin, vitamin A supplement, thiamine mononitrate, pyridoxine hydrochloride, niacin, folic acid, vitamin D3 supplement, biotin, vitamin B12 supplement, P-aminobenzoic acid, salt, ferrous sulfate, magnesium sulfate, zinc sulfate, manganese sulfate, copper sulfate, calcium iodate, blue 2 (artificial color).* 04-49N
* Because of our commitment to providing the highest quality nutrition available, some differences in ingredients may occur due to regular formula updates.
| Crude Protein | Crude Fat | Crude Fiber | Moisture | Ash |
| --- | --- | --- | --- | --- |
| min. 35.0% | min. 4.0% | max. 3.0% | max. 10.0% | max. 13.0% |
| Phosphorus | Vitamin A | Vitamin D3 | Vitamin E | Ascorbic Acid |
| --- | --- | --- | --- | --- |
| min. 0.8% | min. 19,000 IU/kg | min. 2,800 IU/kg | min. 590 IU/kg | min. 420 mg/kg |
Packaging & Pellet Size(s)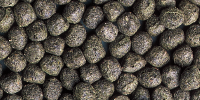 4.0-5.5 mm

Medium Pellet
11 lb. (5kg) - #13382
Recommended for the Hikari® Excel® Koi Food
Product title
Vendor
$19.99 | $24.99
Product title
Vendor
$19.99 | $24.99
Product title
Vendor
$19.99 | $24.99
Product title
Vendor
$19.99 | $24.99