An excellent treat rich in silkworm pupae, something Japanese koi farmers have used for centuries to add weight and improve luster and shine. This formulation offers more than 50% natural silk worm pupae in a proprietary blend that eliminates oxidation thereby eliminating the terrible smell and potential health issues silkworm foods are known for.
Floating Food

Growth

Treat
A Scientifically Formulated, Supplemental, Aggressive Growth Diet
A Uniquely Balanced Treat For Koi

Uses a centuries old traditional ingredient
Proprietary process reduces chances of silkworm oxidation
Adds weight rapidly while improving sheen and luster
Heightened lipid and protein levels in a formulation koi will readily use
A flavor even the most finicky koi will love
Feeding 

Regularly monitor your temperature and adjust feedings as required. Never over feed.

Above 68°F (20°C) - Silkworm Selects™ should comprise 20% to 40% of total amount fed and be mixed with the other Hikari® koi diets. Using this mix, feed two to four times per day the amount your fish will consume within five minutes.

Below 68°F (20°C) - We strongly recommend using Silkworm Selects™ primarily as a treat comprising no more than 10% of the total amount fed. For colder temperatures we recommend Hikari® Wheat-Germ.

Note: Silkworm Selects™ contains higher levels of natural ingredients which may cause a slight change in color from one production lot to another. Rest assured because of our rigid quality standards, each package meets our superior nutritional specifications.
Nutrition
Whole crushed silkworm pupae, wheat flour, wheat germ meal, spirulina, dried seaweed meal, choline chloride, vitamin E supplement, L-ascorbyl-2-polyphosphate (stabilized vitamin C), inositol, d-calcium pantothenate, riboflavin, vitamin A supplement, thiamine mononitrate, pyridoxine hydrochloride, niacin, folic acid, vitamin D3 supplement, biotin, silicon dioxide, disodium phosphate, salt, ferrous sulfate, magnesium sulfate, zinc sulfate, manganese sulfate, copper sulfate, calcium iodate.* 03-49H
* Because of our commitment to providing the highest quality nutrition available, some differences in ingredients may occur due to regular formula updates.
| Crude Protein | Crude Fat | Crude Fiber | Moisture | Ash |
| --- | --- | --- | --- | --- |
| min. 31.0% | min. 16.0% | max. 3.0% | max. 10.0% | max. 9.0% |
| Phosphorus | Vitamin A | Vitamin D3 | Vitamin E | Ascorbic Acid |
| --- | --- | --- | --- | --- |
| min. 0.3% | min. 6,300 IU/kg | min. 1,200 IU/kg | min. 10,000 IU/kg | min. 2,500 mg/kg |
Packaging & Pellet Size(s)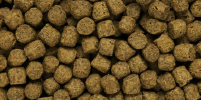 4.0-5.5 mm

Medium Pellet
17.6 oz. (500g) - #07642
Recommended for the Hikari® Silkworm Selects™ Koi Food
Product title
Vendor
$19.99 | $24.99
Product title
Vendor
$19.99 | $24.99
Product title
Vendor
$19.99 | $24.99
Product title
Vendor
$19.99 | $24.99